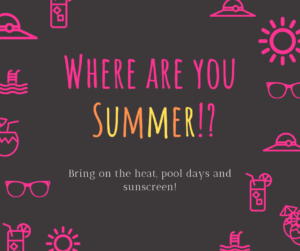 Summer Giveaway!
To our dedicated customers (and future customers)…We want to thank you for trusting in us with your insurance needs, you are all amazing! With summer right around the corner, we want to giveaway a summer tote full of essentials to show our appreciation.
*Do note that there is no cost or obligation to purchase insurance to win*
To be entered:
*Can do 1 or all Entry options.
A. Current customers, share this blog post  on your Facebook page, AND tag us in your post. (1 Entry)
-Bonus entry for commenting all the states we are licensed in. 😊
-Not on Facebook? It's ok! Stop in the Fairmont or Trimont Office and fill out a Testimonial card.
B. Refer a friend or family member to us and have them request a free quote online or in person. Make sure they give us your name! (1 Entry for each referral).
Not a customer with us?
No problem! Go to our website and request a free quote or stop into one of our locations  (during office hours).
Online quotes: comment "Summer Giveaway" in the message box before you send it.
In person quotes: let us know that you heard about our giveaway!
*Official Rules*
NO PURCHASE, PAYMENT OR OFFER OF ANY KIND IS NECESSARY FOR PARTICIPATION IN THE
GIVEAWAY. A PURCHASE WILL NOT IMPROVE YOUR CHANCES OF WINNING. GIVEAWAY VOID WHERE
PROHIBITED BY LAW.
Contest will run from June 1st-21st, at 4:30pm (CST).
We will do a live drawing on June 22nd via Facebook
Only 1 winner will be chosen.
Facebook page: @petersonanthony to see the live drawing (optional)
Must be 21 years of age or older to be eligible.
Winner must be present to pick up at Fairmont MN location, we will not mail the prize.
In person quotes or testimonials need to be done during office hours (M-F 8-4:30).