We are approaching that time of year again….Harvest Season!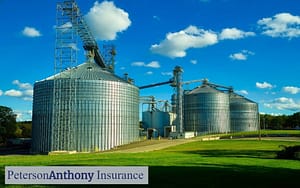 There's just something about the fall colors and the fresh fall air, but there are also safety precautions we should be aware of, especially for farmers. Many of you who have been farming for quite some time may already feel you know how to be safe around equipment and your farm operation. And as comfortable as one may feel, accidents and injuries can happen in the blink of an eye, no matter how prepared and safe we are being.
As an independent insurance agency where one of our area's of focus is protecting our farmers and their farm operation, we want to still touch base on how to be as safe as we possibly can before harvest takes over. It's pretty safe to say that almost every farmer may have their own grain bin, borrow another farmers grain bin, or at least been around one, so let's first start out by talking about grain bin safety.
Grain bins can be a big sinking trap and OSHA explains that it can take about 4-5 seconds until you are trapped in a bin full of corn. Why are farmers inside their grain bins full of corn or other crop? Well, they are typically cleaning the bins out, making sure there are no cracks or damage and wanting to rid of old crop to make room for new crop. OSHA also provides some general tips for grain bin safety which include, disconnecting or blocking off any equipment that can present danger before going inside a bin and the importance of a safety harness so you don't sink. By visiting their website, they also provide a diagram showing the proper way to enter and get out of a grain bin.
Equipment Knowledge
Safety in a grain bin is critical, but it's also vital to know your way around farm equipment whether it's how to properly run each piece or knowing how to fix any issues or replacing parts that may have gone bad from last season. For example, here are a few tips from the National Ag Safety Database to look into before you start working on any of your equipment:
Always disengage power and shut off engine before leaving the operator's station.
Before going to the field, check the condition of machine components that pull the crop into the processing area, replace worn parts, and check clearances.
Develop a weed management plan for areas that often have late season problems.
Frequently clean mud, crop residue, or other debris from steps and other areas.
Inspect soles on work shoes. If necessary, replace with soles that have better traction.
Being fully prepared for safety around the farm is just part of it, you may also want to consider developing a safety plan for everyone that is working with you on site or in the field. In the event of an accident, a safety plan would allow you to all be on the same page, identify where all the hazards are, helping everyone stay as calm as possible in a serious situation, and be aware of what everyone's roles is if assistance is needed during an emergency.
Awareness
Not only is it important to have peace of mind by developing a safety plan, but it's also great for the community members to be aware of how to stay safe when out using the roads. Let face it, those combines are HUGE, not all of them move overly fast, but they also take up a big chunk of driving space on the road. So how can we work together during this time of year when using the same roads as farmers? Here are some recommendation from MSU Michigan Extension:
Slow down immediately when you first see farm equipment ahead of you on the roadway. Farm equipment usually travels less than 25 miles per hour. It takes less than seven seconds for a car traveling at 55 mph to crash into the back of a tractor 400 feet away.
Be patient and wait for an opportunity to safely pass farm equipment. The tractor or combine operator will probably be aware of your presence and will try to accommodate if possible as traffic begins to back up.
Drive defensively when approaching on-coming farm equipment. Impatient motorists may pull out suddenly to pass the farm equipment and enter your lane.
Be on the alert when you see amber flashing lights ahead in either lane.
Be prepared to stop at railroad crossings when following a vehicle towing an anhydrous ammonia tank. Anhydrous ammonia tanks look like the large propane gas tanks used by rural homeowners.
So no matter how familiar or comfortable you may be as a farmer or an individual that is around a farming community, it's important to have a mindful refresh each harvest and be alert of the surrounds. As an insurance agency we feel it's a lot easier to have everything in line and prepared for, then having an "oh no, I wish I would of…." moment or situation!
Thank you farmers for all you do and provide for us, know that you are appreciated and we wish you a successful 2019 harvest!
Questions on your Farming Operation?
Let us protect your operation before becoming busy, that way you can rest easy knowing we have you covered. 
Click the Farm Insurance button below to learn more, ask a question or get a free quote on your farming operation.